Through our library catalogue Kata — named after the Swedish female socialist Kata Dalström — you can retrieve a lot of printed material concerning women.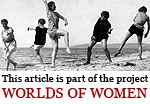 The use of subject headings is one way of finding this material. Below is a list containing some useful subject headings concerning women. Worth mentioning is that the terms are divided into head- and subterms and that we are in most cases displaying the head term only.
Click on a link to perform a direct search in our library catalogue.