Välkommen till en eftermiddag med spännande föreläsningar om det senaste inom arbetarhistoria.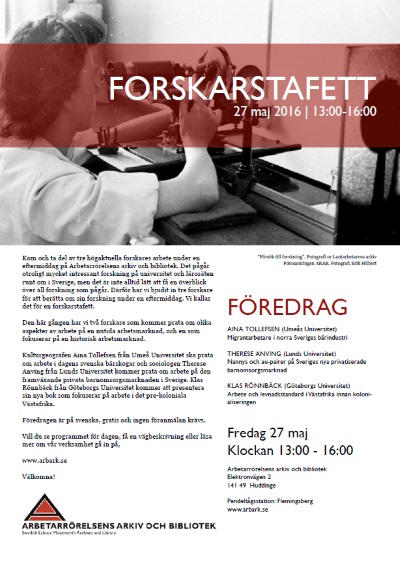 13.00-14.00
Aina Tollefsen (Umeå Universitet)
Migrantarbetare i norra Sveriges bärindustri
Du kan läsa mer om Ainas forskning på detta tema bland annat i antologin Remapping gender, place and mobility: global confluences and local particularities in Nordic peripheries
som gavs ut på Routledge 2015.
14.00-15.00
Terese Anving (Lunds Universitet)
Nannys och au-pairer på Sveriges nya privatiserade barnomsorgsmarknad
Terese forskning kring detta ämne återfinns bland annat till exempel i tidskriften Fronesis temanummer om en familjepolitik i förändring (nr 50-51 2015).
15.00-16.00
Klas Rönnbäck (Göteborgs Universitet)
Arbete och levnadsstandard i Västafrika innan kolonialiseringen
Klas forskning på temat kan man läsa om i hans nya bok Labour and Living Standards in Pre-Colonial West Africa: The Case of the Gold Coast som kom ut på Routledge 2015.
Om du har frågor hör av dig till malin.nilsson [snabel-a] arbark.se
Ingen anmälan krävs.
Varmt välkomna till ARAB!