INTERNATIONAL CONFERENCE: LONG-TERM PERSPECTIVES ON HOME-BASED WORK
STOCKHOLM MAY 22-24, 2018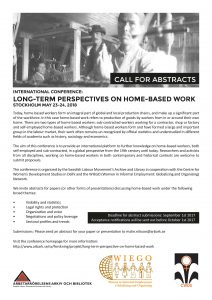 Today, home-based workers form an integral part of global and local production chains, and make up a significant part of the workforce. In this case home-based work refers to production of goods by workers from in or around their own home. There are two types of home-based workers: sub-contracted workers working for a contractor, shop or factory and self-employed home-based workers. Although home-based workers form and have formed a large and important group in the labour market, their work often remains un-recognized by official statistics and understudied in different fields of academia such as history, sociology and economics.
The aim of this conference is to provide an international platform to further knowledge on home-based workers, both self employed and sub-contracted, in a global perspective from the 19th century until today. Researchers and activists from all disciplines, working on home-based workers in both contemporary and historical contexts are welcome to submit proposals.
The conference is organized by the Swedish Labour movement Archive and Library in cooperation with the Centre for Women's Development Studies in Delhi and the WIEGO (Women in Informal Employment: Globalizing and Organizing) Network.
The conference is funded through Riksbankens Jubileumsfond (the Swedish Foundation for Humanities and Social Sciences).
We have invited abstracts for papers (or other forms of presentations) discussing home-based work under the following broad themes:
Visibility and statistics
Legal rights and protection
Organization and voice
Negotiations and policy leverage
Sectoral profiles and trends
Organising committee
Jane Barrett (Wiego), Indrani Mazumdar (CWDS), Silke Neunsinger (Swedish Labour Movement's Archives and Library) & Malin Nilsson (Swedish Labour Movement's Archives and Library & University of Lund).
PRELIMINARY PROGRAM
Tuesday Evening May 22
Evening (public) lectures:
Marty Chen, Harvard and WIEGO, Introduction to Conference , "Long term perspectives on home-based work""
Eileen Boris, University of California at Berkeley, "From Industrial Evil to Decent Work: The ILO and Changing Perspectives toward Home-Based Labor"
Wednesday, May 23
Welcome intro 08:30-09:15
Welcome, introduction, practical information and coffee
Silke Neunsinger and Malin Nilsson, Swedish Labour Movement's Archives and Library
Session 1 Statistics and visibility 09:15-10:00
Introduction and comments Joann Vanek
Sona Mitra, Centre for Budget and Governance Accountability India, "Home-based Manufacturing Work for Women in India: Drivers and Dimension"
Laura Ekholm, University of Helsinki, "The garment industry and the home-based industrial work in the Swedish and Finnish business census"
Srabani Maitra, University of Glasgow, Redefining "enterprising selves": exploring the negotiation of South Asian immigrant women working as home-based entrepreneurs in Canada
Coffee 10.00-10.30
Session 2 Visibility and statistics 10:30-12:00
Intro and comments Joann Vanek
Ellina Samantroy Jena, Ministry of Labour and Employment, Government of India,"The Invisible Workers: Capturing Home Based Work in India"
Malin Nilsson, University of Lund, "An estimation of the underreporting of industrial home-work in labormarket statistics in Sweden"
Maria Tambouko ,University of East London, UK, "Home-based work: genealogies and assemblages"
Lunch 12:00-13:00
Session 3 Sectoral profiles and trends 13:00-14:30
Introduction and commentator: Indrani Mazumdar and Chris Bonner
Archana Prasad, CDWS, "Homeworkers and Labour Markets under Contemporary Capitalism: A Case Study of Export Oriented Garment Sector in India"
Ann Kristin Klausen, Helgeland museum, "Nesnalobben- a shoe from Noway made by homeworkers"
Fatouma Sow, University Elhadj Ibrahima Niasse, "Transformations of household activities in the context of Global Trade: The Case Study of Women's Basketry in Mékhé, Senegal"
Coffee 14:30-15:00
Summing-up comments
Indu Agnihotori 15.00-15.30
Social event on evening
Thursday May 24
Session 4 Regulation 8.30-10.00
Introduction and Commentator: Eileen Boris
Lin Lim, ILO,"The impact of a code of conduct on homeworkers"
Abigail Hunt, Overseas Development Institute, UK; "Is digital crowdwork the future of home-based work?"
Indira Hirway, Director and Professor of Economics Center For Development Alternatives, Ahmedabad, "Trade Liberalization and Home-based Workers: Critical Insights Emerging from Their Time Use"
Eloisa Betti, University of Bologna, "Industrial Homework and Fordism in Western Europe. Women's agency, labour legislation and trade unions' action in Golden Age Italy (1945-1975)"
Coffee 10.00-10.30 coffee
Session 5 Sectoral profiles and trends 10:30-12:00
Introduction and commentator: Indrani Mazumdar and Chris Bonner
T M Tonmoy Islam, Elon University, "Home-based work of Bangladeshi women"
Narumol Nirathron, Thammasat University"" Homework in Thailand : A Challenge to Formalization"
Leda Papastefanaki, University of Ioannina, "Sewing at home (Greece, 1870s -1930s). A global history perspective"
Gabriela Mitidieri, University of Buenos Aires, "A virtuous woman knows how to sew". Labour, craft and domesticity in Buenos Aires City during the decades of 1850 and 1860"
Lunch 12:00-13:00
Session 6 Agency 1 13:00-14:30
Commentator: Silke Neunsinger and Jane Barrett
K. Kalpana, Indian institute of technology, "Refusing invisibility: Women workers in sub-contracted work in a South Indian city"
Leena Enbom , University of Helsinki"The Self-Employed. Home-Based Work in Low-Income Households in Helsinki, 1890–1960
Janine Berg, ILO, "Contemporary digital homework: Old challenges, different solutions?"
Coffee 14:30-15:00
Session 7 Agency 2 15:00-16:30
Sonia George, CDWS, "Re-engaging Work Spheres into Labour Spaces: The Micro/Macro Politics of Home Based Work"
Saniye Dedeoglu, Mugla University, "Knitting Women's Home-Based Work into Istanbul's Garment Industry"
Nicholas Fernandez Bravo, Universidad de Buenos Aires, "Beyond the rhetoric of 'slave labor': subaltern experiences of self-organization among precarious workers in Argentina."
Summing up the workshop 16.30
Marty Chen, Malin Nilsson, Neeta N
Workshop dinner 20.00
CALL FOR ABSTRACTS
Submissions: Please send an abstract for your paper or presentation to malin.nilsson[a]arbark.se
The deadline for abstract submissions was September 15 2017
Acceptance notifications was sent out before October 1st 2017
Practical
Location
The conference will be held at the Labour movements archives and library in Stockholm May 23-24 2018.
Conference fee and registration
For any questions email silke.neunsinger[a]arbark.se