PRESENTATIONS AND CONVERSATIONS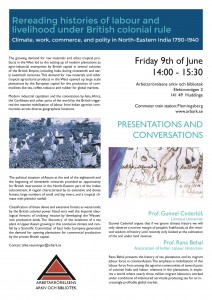 REREADING HISTORIES OF LABOUR AND LIVLIHOOD UNDER BRITISH RULE – CLIMATE, WORK, COMMERCE AND POLITY IN NORTH-EASTERN INDIA 1790-1940
Prof. RANA BEHAL, Association of Indian Labour Historians
Prof. GUNNEL CEDERLÖF, Linnaeus University
Contact: silke.neunsinger[a]arbark.se
The growing demand for raw materials and other tropical products in the West led to the setting up of modern plantations as agro-industrial enterprises by British capital in several colonies of the British Empire, including India, during nineteenth and early twentieth centuries. This demand for raw materials and other tropical agricultural products in the West opened up large scale plantations by the European capital for the production of commodities like tea, coffee, tobacco and rubber for global markets.
Modern industrial capitalism and the colonisation by Asia, Africa, the Caribbean and other parts of the world by the British triggered the massive mobilisation of labour from Indian agrarian communities across diverse geographical locations.
The political situation of Assam at the end of the eighteenth and the beginning of nineteenth centuries provided an opportunity for British intervention in the North-Eastern part of the Indian subcontinent. A region characterised by its extensive and dense forests, large numbers of small and big rivers, and a tropical climate with plentiful rainfall.
Classification of these dense and extensive forests as waste lands by the British colonial power fitted very well the Imperial ideological rhetoric of 'civilizing' mission by 'developing' the 'Wastes' into productive lands. The 'discovery' of the existence of a tea plant in Upper Assam growing in this conducive climate and rainfall by a 'Scientific Committee' of East India Company generated the demand for opening plantations for commercial production by the private British capital.