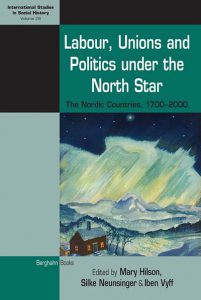 Edited by Mary Hilson, Silke Neunsinger, and Iben Vyff
Denmark, Finland, Iceland, Norway, and Sweden today all enjoy a reputation for strong labour movements, which in turn are widely seen as part of a distinctive regional approach to politics, collective bargaining and welfare. But as this volume demonstrates, narratives of the so-called "Nordic model" can obscure the fact that experiences of work and the fortunes of organized labour have varied widely throughout the region and across different historical periods.
Together, the essays collected here represent an ambitious intervention in labour historiography and European history, exploring themes such as work, unions, politics and migration from the early modern period to the twenty-first century.
"Though these essays range widely, they are held together by an excellent common effort to set each chapter within the broader Nordic context. This is a top-rate contribution to the historiography on European labour movements." · David Kirby, University College London
"This welcome book provides very interesting and well-argued views on a rich variety of topics in recent and current Nordic labour history research, and on the current state of art in Nordic labour relations and movements." · Pauli Kettunen, University of Helsinki
[Texten hämtad från bokförlagets beskrivning].
Labour, Unions and Politics under the North Star : the Nordic Countries, 1700-2000, International Studies in Social History, Volume 28, ges ut av Berghahn Books
Om du är intressad av att köpa eller att läsa mer om boken, se Berghahn Books hemsida