Detta evenemang har redan ägt rum.
Book launch: Cleaning up. Portugese women´s fight for labour rights in Toronto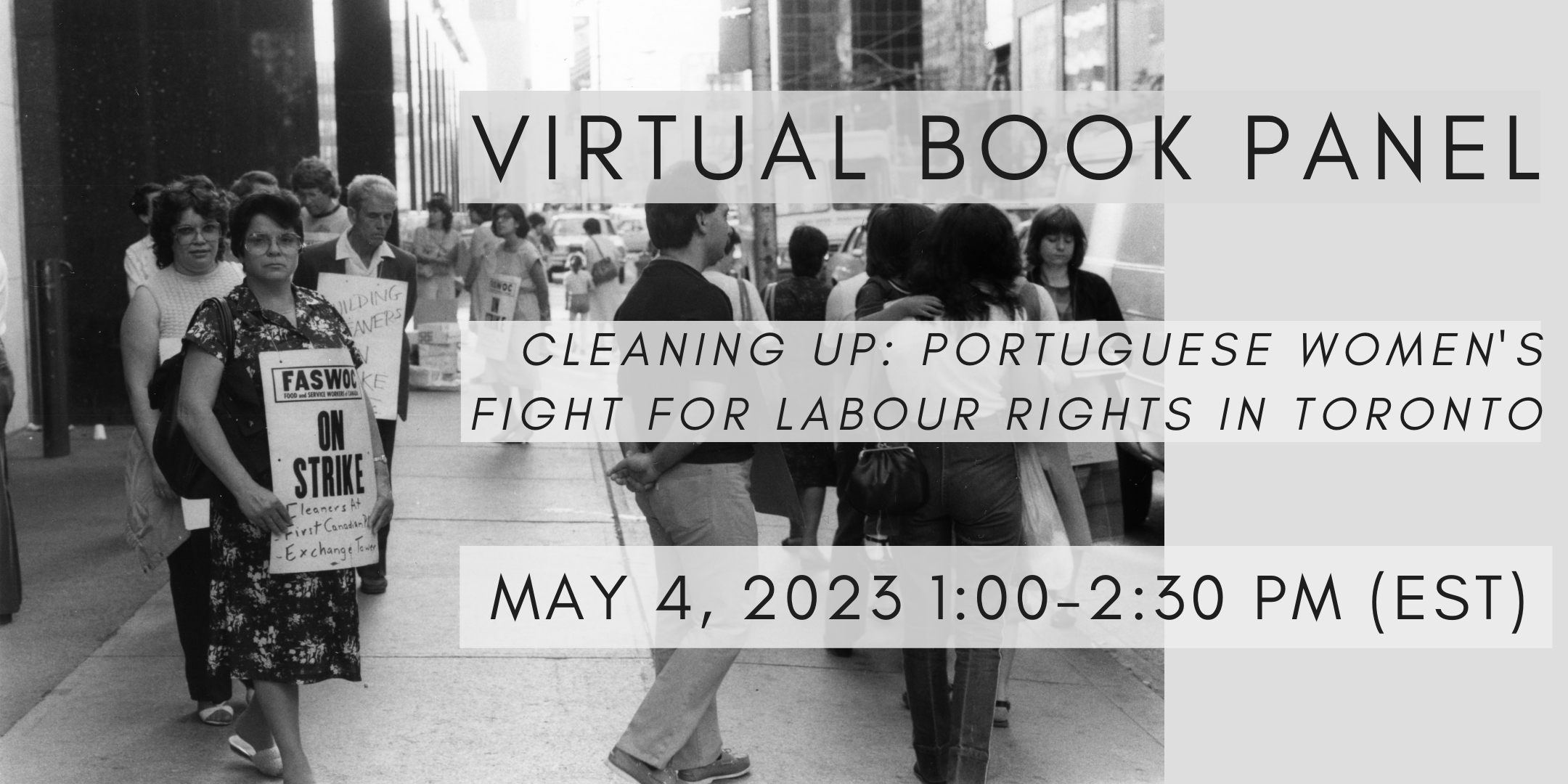 Please join Between the Lines authors for an international conversation on Cleaning Up: Portuguese Women's Fight for Labour Rights in Toronto, featuring a packed panel of feminist labour historians, community activists, and union organizers.
—
Featuring:
Susana P. Miranda and Franca Iacovetta, authors
Silke Neunsinger, Swedish Labour Movement Archives & Library and Uppsala University
Marcie Ponte, Executive Director, Working Women Community Centre, Toronto
Sidney Pratt, Recife, Brazil, Founder of Cleaners' Action (Toronto)
Idalina Azevedo, former cleaner and union steward, Toronto
Wendy Iler, Ottawa, former union organizer, Food and Service Workers Of Canada (FASWOC)
Nina Trige Andersen, historian & journalist, Society for Labour History (SFAH), Copenhagen
Gabriela Castro, former St Christopher House staff and Toronto Multicultural Television newscaster, PHD at the University of the Azores
—
May 4, 2023 at 1 – 2:30 pm (EST)
Watch it on Zoom: https://us06web.zoom.us/j/84981852926
—
About the book:
This fascinating book uncovers the little-known, surprisingly radical history of the Portuguese immigrant women who worked as night-time office cleaners and daytime "cleaning ladies" in postwar Toronto.
Drawing on union records, newspapers, and interviews, feminist labour historians Susana P. Miranda and Franca Iacovetta piece together the lives of immigrant women who bucked convention by reshaping domestic labour and by leading union drives, striking for workers' rights, and taking on corporate capital in the heart of Toronto's financial district. Despite being sidelined within the labour movement and subjected to harsh working conditions in the commercial cleaning industry, the women forged critical alliances with local activists to shape picket-line culture and make an indelible mark on their communities.
Richly detailed and engagingly written, Cleaning Up is an archival treasure about an undersung piece of working-class history in urban North America.