Detta evenemang har redan ägt rum.
Film Screening and Directors´ Talk: 'We Carry It Within Us' – fragments of a shared colonial past
07 juni 2022 @ 14:00

-

16:00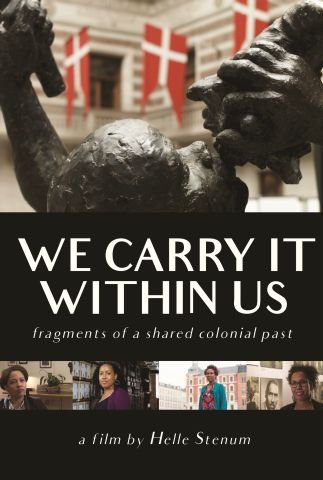 Screening of the documentary feature 'We Carry It Within Us'
Length: 65 min. Language; English
'The great force of history comes from the fact that we carry it within us, are unconsciously controlled by it…… History is literally present in all that we do.'
James Baldwin
The documentary feature 'We Carry it Within Us' investigates collective memory and different perspectives on the interlinked colonial past between Denmark and the current US Virgin Islands. Who and what are being remembered, and how is the story and the histories of a past told?
The mode of the documentary is to see and listen to the colonial history told through the memories, experiences and reflections from descendants of former Danish Afro-Caribbeans on the Virgin Islands (the artist La Vaughn Belle, the student Chenoa Lee, the author Tiphanie Yanique and the anthropologist Tami Navarro) along with art and cultural historians who tell about Denmark and Europe's role in the enslavement and the transatlantic slave trade – and how the colonial history is leaving its mark in today's words, art, museums, archives, education and wealth as well as in various types of memory and forgetfulness.
Premiered 31.May 2017, has been broadcasted on Danish TV Fall 2017, spring 2018. Screened related to the Royal library's 2017-18 exhibition 'Blinde Vinkler'/ Blind Spots, about images of the colony 'Danish West Indies'. Screened in Norway, UK, Iceland, US, Canada. Awarded Best Documentary Feature at the Los Angeles Independent Film Festival November 2017, and Imagine, Women's International Film Festival, NYC November 2018.
Meet the director! Helle Stenum, PhD, researcher & educator at Roskilde university, has for many years worked on issues such as migration, culture, collective memory, ethnic relations, transnational connections, race and gender constructs at universities and as independent researcher and consultant. This documentary builds upon her profound knowledge on the colonial connection and her wide international network. 'We Carry It Within Us' is her first documentary.
Please click the link below to join the webinar:
https://us06web.zoom.us/j/87404138809?pwd=Vm9xajhqZUs4dGJlakdlWnFkVkNRdz09
Watch the trailer.