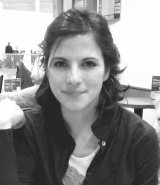 Maribel Morey is a PhD candidate at the Princeton University History Department where she focuses on the construction of authoritative legal and social science thought in twentieth century U.S. and Europe.
During the fall of 2008 she was doing research in the reading room at the Labour Movement Archives and Library in Stockholm.

What's your research about?
– My dissertation, tentatively titled »The Making of An American Dilemma«, seeks to answer how Gunnar Myrdal's 1944 work became an authoritative work on race in the postwar United States.
The most important you've learned so far?
What's still unresearched on the topic, what's missing from your point of view?
– I will need to sit down with my research notes before I can answer these two questions properly.